Postado on Sun Oct 31, 2010 2:30 pm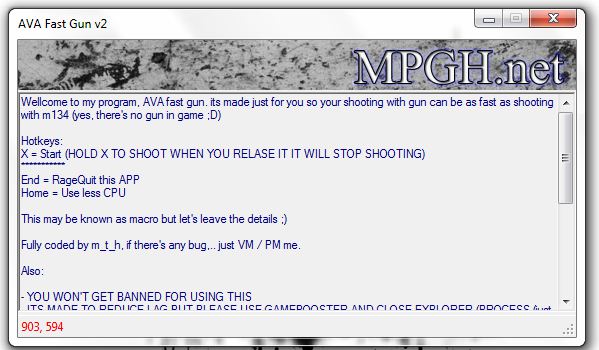 How to use:

open it then run AVA.
if you want to shoot press x.

if you want to shoot like 10 times in second hold xWhy Never Detected + Banned ?
1. Start with Admin !
2. When the Hack not work then you must close Skype, TS, Icq Or what ever because its works with a Hotkey.
- Because This Hack inject not in the Game.File name:
AVA Hack V2.zip
Submission date:
2010-10-06 17:53:38 (UTC)
Current status:
queued queued analysing finished
Result:
0/ 43 (0.0%)
Credits:Nett
Credits:F.E.A.T.U.R.E
Lg
Attached Files
| | |
| --- | --- |
| | AVA Hack V2.zip |